FM900 ~ 2.4GHz Futaba FASST Micro 1.2gram SBUS Receiver Support T8FG T14SG T16SZ T18MZ
Regular price
$17.99
Sale price
$19.99
Unit price
per
1. Support FASST 2.4G air system, three mode MULT、MLT2、7CH and two area GENERAL(G)、FRANCE(F).
2. Radio support T8FG、T14SG、T16SZ、T18SZ、T18MZ、T32MZ etc.
3. S.BUS output (3.3V high level signal, good compatible with most F1, F3, F4, F7 flight).
4. Total 17 channels output maximum, 15 linear channels and 2 digital gear channels.
5. The channel 16 of S.BUS is real time RSSI of FM900, BETAFLIGHT OSD can display this RSSI value in screen.
6. The channel 17 and 18 of S.BUS are digital gear channels that named DG1、DG2 in the radio.
7. Rated voltage 4.0V~6.0V, size 11.5mm x 21mm, weight only 1.2g, perfect fit small size FPV drone.
8. Use the newest high reliability FASST demodulator which independently-developed by X-BOSSTM in 2019.
9. Include high-performance discrete LNA chip.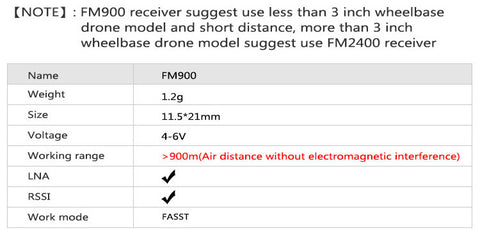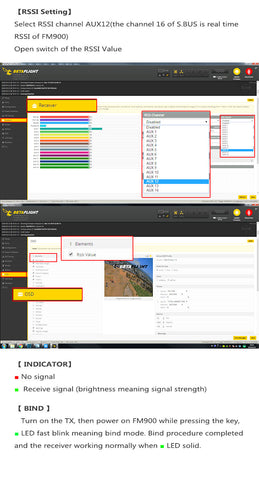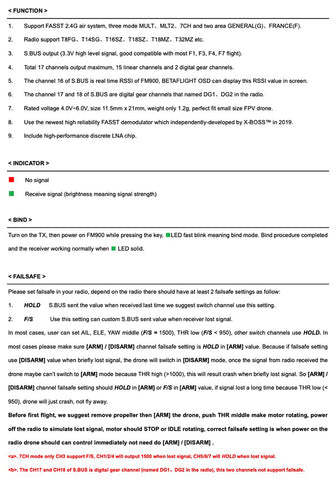 check detail and manual:
Fill in the following FORM or send email to support@hbfpv.com directly
---
Share this Product
---